It sits enthroned on a rocky plateau above the sea, the vibrant small harbor town with a view reaching far across the Gulf of Naples and the islands of Ischia and Procida.
The lively town center attracts you with museums and churches rich in treasures of art as well as lush orange and lemon gardens.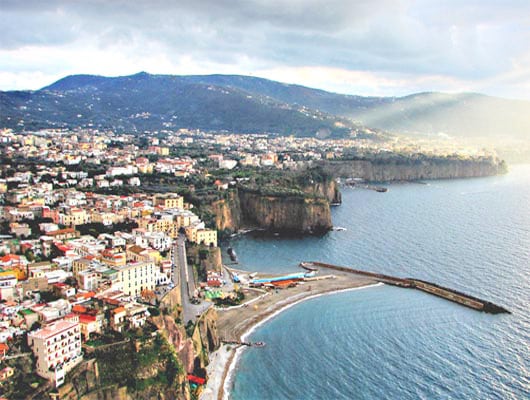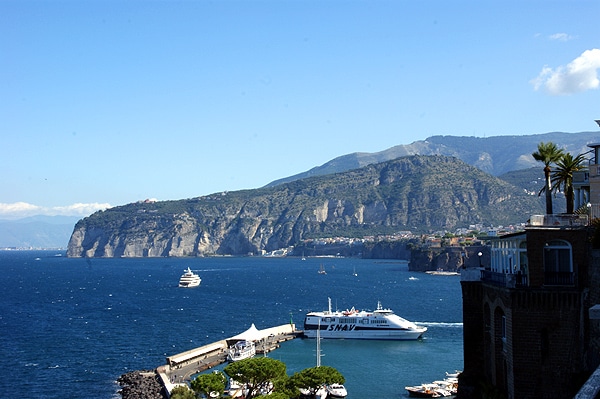 Hotel at Sorrento
- Charming balcony with a view onto the Gulf of Naples
Located on a plateau of tuff stone and surrounded by impressive rocks of the limestone mountains, Sorrento 'rises high' on the Gulf of Naples. The charming small town seems like a terrace with a view across the Gulf of Naples and the islands of Ischia and Procida; it is particularly striking when approaching the steep cliffs from the sea.
Visitors to and vacationers at Sorrento find its famous orange and lemon gardens to be very appealing. The big lemons growing there and at the Amalfi Coast are used to produce, for example, limoncello, lemon chocolate and lemon soap, all of which are typical for the area.
Besides these small green gems right in the heart of town, you are attracted by a lively town center as well as museums and churches rich in treasures of art. Last but not least, it is Sorrento's convenient location which makes it so popular with tourists.
From Sorrento, all the important sights/sites around Naples, such as Pompeii and Herculaneum, are easily reached by train, i.e. the regional train "Circumvesuviana".
From ferry port Marina Piccola, regularly scheduled speed boats depart for the islands of Capri, Ischia and Procida.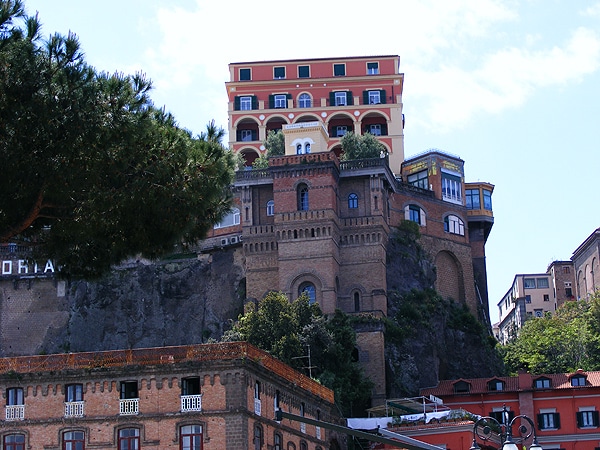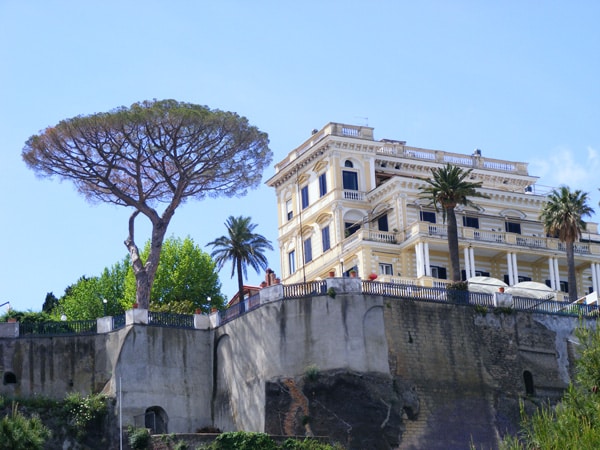 Lively Sorrento - Hotel in best location
In spite of the numbers of visitors attracted to Sorrento each year, the small town has preserved its charm. The heart of the town beats at Piazza Tasso. The square is adorned by the statues of S. Antonino, the patron saint, and Torquato Tasso, a 16th century poet and the town's most famous son.
A place to stop by in the center is the Museo Correale, where antique architectural fragments, vedute, majolica and the intarsia works typical for Sorrento are exhibited. The latter can also be admired in the beautiful cathedral of Santi Filippo e Giacomo, which is located at the former Roman forum. What you should not miss out on visiting either is the church of San Francesco with the adjacent charming cloister. 
At the picturesque fishing harbor of Marina Grande, which is accessible via stairways, you can enjoy delicious meals at wonderful sea food restaurants and let the evening fade away backed up by an idyllic setting.
Of course, you might want to take a refreshing swim in the sea while vacationing at the hotel we arrange for at Sorrento: There is a narrow stretch of sand below the town, along the foot of the steep coast.
A beautiful alternative to the northwest of town is the bathing area at Punta del Capo, which is easily reached by bus.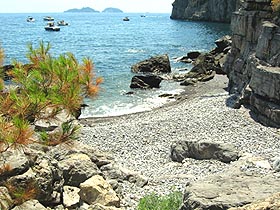 Book your holidays at Sorrento